Locomotion is critically important for a diverse array of ecologically important activities in many animals, such as avoiding predators, acquiring food resources, and attaining mates. Our lab investigates a range of questions regarding the ecology and evolution of locomotor abilities, building and expanding from the foundational framework of morphology -> performance -> fitness (Arnold 1983). Some of our work examines the mapping of morphology to locomotor performance, the genetic basis of locomotor abilities, integration of locomotion with other types of traits (e.g., behavior, life history), the nature of selection on locomotor tasks and underlying morphological traits under alternative ecological conditions, and evolutionary divergence in locomotor performance between habitat types. Results at bottom-right are from Langerhans 2009a and 2009b.

The lab focuses on locomotor performance in fish, generating and testing predictions of evolutionary divergence in morphology and swimming abilities based on biomechanical and ecological knowledge. Primarily, we have been investigating a hypothesized tradeoff between steady (constant-speed cruising) and unsteady (rapid bursts and turns) swimming performance, and using this tradeof--combined with divergent selection on steady and unsteady swimming across alternative environments--to formulate and test specific evolutionary predictions.
Divergent Selection on Swimming Performance:
Three Common Environmental Gradients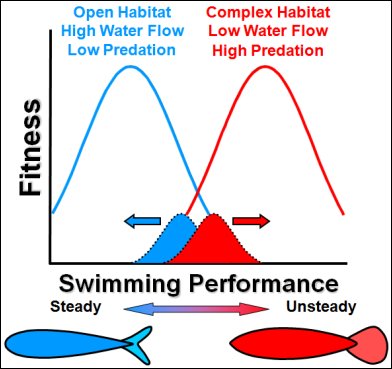 From Langerhans and Reznick 2010.